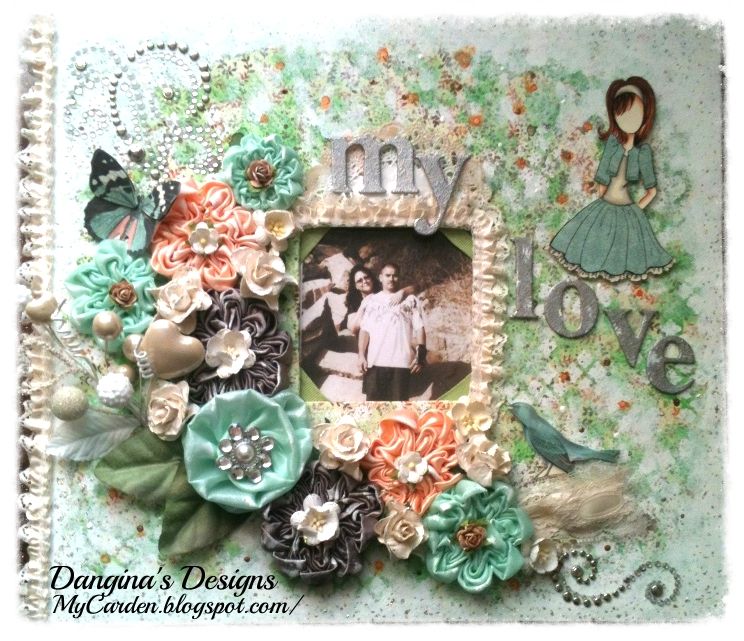 Hello People.
How are you doing today? In a good mood I hope. I know I am, lol. I finally finished this 12x12 album I have been working on all week. I was so stoked to find out that my favorite place to shop was now carrying
Prima Marketing
! I just had to add this gorgeous doll to the front cover. I made a bunch of the Zig Zag Flowers for this album. Some for the cover and some for the pages. I know the inside will take me much longer to complete so, maybe I will do a page a week.
Loves Rubber Stamps
is putting up such a wonderful and wide collection of Stamps, Dies and Paper Pads. You can get just about anything you need here in this store. I so just want to purchase one of everything, lol. One day right?
Welcome to the
Loves Rubber Stamps
weekly
Sensational Sunday Blog Hop
! The Design Team has created some gorgeous projects for your Inspiration. Check out each link and leave a comment. If you get lost along the way, each stop will have a full list of links. One of the Design Team posts is the hop's Sensational Sunday Sweet Spot and a name will be drawn from that list of comments to win a $10 Loves Rubber Stamps store gift certificate. So, all you have to do is hop along and see all the creations and leave a little love for the Designers! You have until Saturday, August 3rd, at 8pm CST. Have fun and we hope that you enjoy the hop!
We are going to have
3 positions opening
up for our
Loves Rubberstamps
Design Team Term from
September 1st - December 31st
and would
LOVE
to have you try out!
Requirement would be
two projects per week
along with a corresponding blog post featuring your projects. One is for the Tuesday Challenge and the other is for the Sensational Sunday Hops!
Our Design Team Members will receive the following:
A
30% Discount off all items we carry in our store
(there are a couple of exceptions) during your term
Your projects being featured on the Company Blog, Challenge Blog, Company Facebook Page and in the store as well as links provided to your blog.
Links to your blog from the company blog page, challenge blog site as well as from each design team member's websites
We do allow our Design Team Members to serve on other Design Teams as long as it does not interfere with your commitment to our team.
To apply
... send an email with the following information to
lovesrubberstamps@yahoo.com
with Design Team in the Subject Line
Please include in your email:
Name
A little bit about yourself
Any current or past Design Team Work (you do not need experience to qualify)
Your blog address and any other online galleries that show your work
And include pictures or links of 3 of your favorite projects
Deadline for applying will be
AUGUST 4th. We will then be making our selections by August 11th and notifying our choices by August 17th.
Please only apply if you are able to make the full commitment to the terms and the team.
Thank you so much for your time and consideration! Don't hesitate to contact us with questions also!
Laura & Holly