How's it going? Getting any projects done this weekend? How about that crafty mess? Any plans of cleaning it up, lol, Just Kidding! Who does that any more? I was feeling pretty sick a couple of weeks ago and had given up on house work. You wouldn't believe the dust that built up! I have 2 teen daughters who hate to help with chores but, you know what? I made them clean most of it for not helping while I was down. Next time I'm not feeling well they will be sure to keep up with the house, Muahahaha!!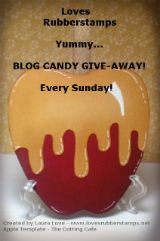 Today's project is an Altered Clipboard. It is 12.5 x 9 so I had to use the 12x12 stencil packaging to cover the base of it. Then I added a sheet of A4 Epiphany Paper layered with a coat of Gesso, some stenciling and misted. That's when all the embellishing happened and I made the fluffy flower on the bottom right outta some scrap sheer a Prima Doily and a diamond pearl center (Thanks Anita).This is the finished project! I really hope you'll join in the fun!
Tons of Hugs, Dangina
Welcome to the
Loves Rubberstamps
weekly
Sensational Sunday Blog Hop
! The Design Team has created some gorgeous projects for your Inspiration. Check out each link and leave a comment. If you get lost along the way, each stop will have a full list of links. One of the Design Team posts is the hop's Sensational Sunday Sweet Spot and a name will be drawn from that list of comments to be in a monthly drawing for a
$20 Loves Rubberstamps Gift Voucher!
We will draw the winner of the Voucher the 1st Sunday of each month

! Remember, you have until
8:00 pm CST Saturday
to leave your comments!
Now let's hop along and see what the Design Team ladies have in store for you...
Blog Hop Order: